Messages

23
Good Post Points

5
Location
Welder

Hobart MVP210, Hobart Stickmate LX. Lincoln Tombstone AC/DC
Looking for input.
I am building a porch in my place and want to incorporate a door over my steps going down to basement underneath the floor.
The old cover is made of 2x 10s, 3/4 plywood, tarpaper, and shingles. It is a heavy monster to open.
I'd like to do something like this.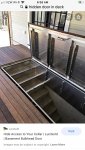 But homemade.
About a 4'x8' foot opening to fill and span.
It must support 50 psf. I want it t
o meet code but not be overbuilt for weight savings if possible.
So here's what I'm thinking.
An angle iron frame around the inside of the concrete block opening with anchors to hold the door in closed position. Maybe 1 1/4" by 1/4" thickness.
Rectangle door frame made of
Square tubing then skinned over with sheet metal to keep out rain.
Steel hinges or a 1" round steel bar hinge.
1. What size tubing would I use steel or aluminum?
2. What gauge of sheet metal?
3. Then I'd fix sleepers/battens to that to support the 10 or so 5/4 by 6" deck boards to hide it.
I have the equipment to do aluminum but want to figure out the weight savings vs cost of
Steel vs wood vs aluminum construction.